Open Friday, Saturday & Sunday 10-5
or By Appointment or Chance Please Phone Or Email For Assistance!
608-943-6187
Or For After-Hours Assistance please try 608-943-6373!
LIKE us on Facebook for specials that will be offered only to Facebook Fans
Welcome to Kastner Pyrotechnics!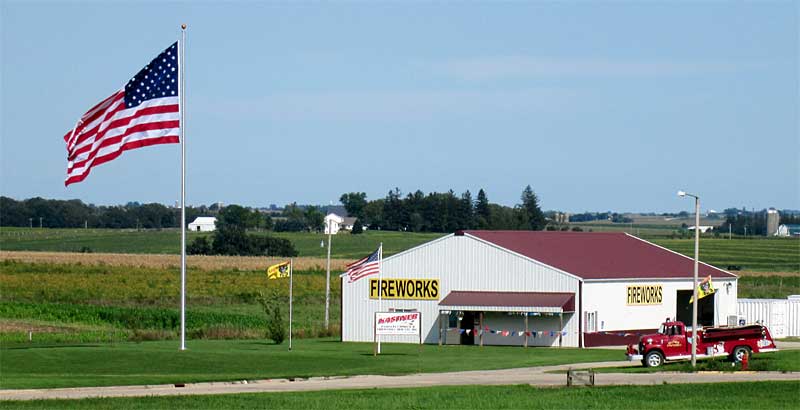 Come see us for the best selection of class C consumer fireworks in Southwest Wisconsin. Our Livingston, WI retail fireworks store has a display room full of cakes, fountains, rockets, aerial shells, firecrackers, sparklers and so much more. Over 1500 items to choose from–shop early for the best selection! As a direct importer, we can bring you the best fireworks at the lowest prices. Don't fall for the buy-one-get-one free gimmics – don't pay inflated prices at the roadside stands or stores off the interstate. Buy from a reputable fireworks company with 30 years of experience in the industry!
COMPARE AND SAVE
See how much less you pay for just three of the more popular Reloadable Artillery Shells here at Kastner Pyrotechnics!
We have 75 reloadable kits for you to choose from – Over 150 500 gram multi-shot cakes starting at only $22.99 – Dozens of rockets, roman candles, fountains and so much more! Check out our product pages for a taste of what you will find here! This is a link that opens in a new window
Check this website for fireworks safety tips: fireworkssafety.org
Please see our online catalog for examples of our retail fireworks selection.
Inside the fireworks store.
If you are looking for wholesale fireworks, please see KastnerFireworks.com for 1.3g professional fireworks and 1.4g consumer fireworks.