After nearly 40 years, Ted & Jeri Kastner of Kastner Pyrotechnics have retired!  The retail store in Livingston is now known as Pistol Pete's Fireworks.  Peter has been a long-time fireworks customer of ours and he shares the same love and passion for fireworks that we have.  We would like to thank all of our loyal customers for their business over the years.  I think that is what I will miss the most in retirement – you, my customers! Please visit Pistol Pete's Website and Facebook page for updated and current hours.  https://www.facebook.com/profile.php?id=100085648668173  http://www.pistolpetesfireworks.com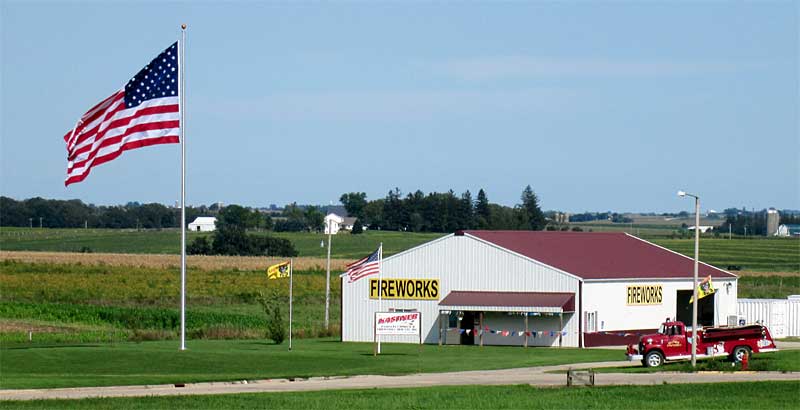 Come see us for the best selection of class C consumer fireworks in Southwest Wisconsin. Our Livingston, WI retail fireworks store has the largest selection of consumer fireworks in the Tri-State area.
Don't fall for the buy-one-get-one free gimmics – don't pay inflated prices at the roadside stands or stores off the interstate.  Buy from a reputable fireworks company with over 30 years of experience in the industry!  As a direct importer, we can bring you the best fireworks at the lowest prices.
There are over 1500 items to choose from – Over 150 Multi-Shot Cakes. Shelves of Fountains, Dozens of Rockets, over 75 Reloadable Aerial Shell Kits – including the BIGGEST and BADDEST 60gm shells on the market! We have a large selection of Firecrackers, Sparklers, Novelties, Gender Reveal items and so much more. Shop early for the best selection – and yes, we have Sky Lanterns!
Check out our product pages for a taste of what you will find here!
Check this website for fireworks safety tips: fireworkssafety.org 
Please see our online catalog for examples of our retail fireworks selection.
Inside the fireworks store.
If you are looking for wholesale fireworks, please see KastnerFireworks.com for 1.3g professional fireworks and 1.4g consumer fireworks.